Thanks to everyone who came out to the Comal County A&M Club October Happy Hour at              Double Schotts!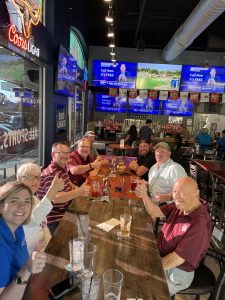 Looking forward to our next Game Watching Party event at Scores Sports Bar as the Fightin' Texas Aggies take on Alabama – hope to see you there!
Also looking forward to seeing you at our next Happy Hour, November 4th at Iron Horse Grill and Saloon!
To keep apprised on all of our club events (including Happy Hours and Game Watching Parties), please feel free to visit our EVENTS page (https://www.comalaggies.com/schedule-of-club-events/) for further details!