Comal County A&M Club Scholarships
Our scholarships are available to incoming freshmen attending Texas A&M University in College Station or Texas A&M University at Galveston. Students that are currently seniors at high schools (or home schools) within Comal County or residents of Comal County are eligible for the scholarship.
We are pleased to announce that the Comal County A&M Club is awarding 8 scholarships valued at $1,500.00 each for the Class of 2027! Gig 'em, Aggies!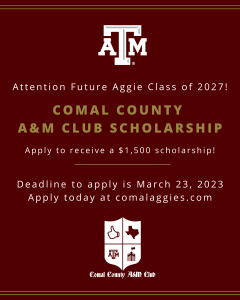 It is recommended that you download this form, type in your answers, print, and sign the completed application.
Submit your 2023 application (when ready) via email or mail to the club at:
—
—
COMAL COUNTY A&M CLUB
P.O. BOX 310747
NEW BRAUNFELS, TEXAS 78131
Congratulations to our 2022 Comal County A&M Club Scholarship Winners!
The Comal County A&M Club (Former Students) Scholarship – $1,200.00* ($600.00 per semester – 1st year)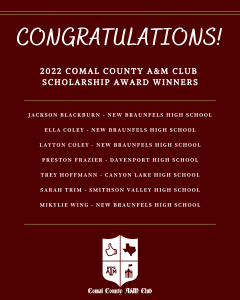 Interested in making a general donation to the Comal County A&M Club Scholarship?
Simply access the donor form on our membership page and select the "other" option to make a custom donation! Gig, em Aggies!