Comal County A&M Club Scholarships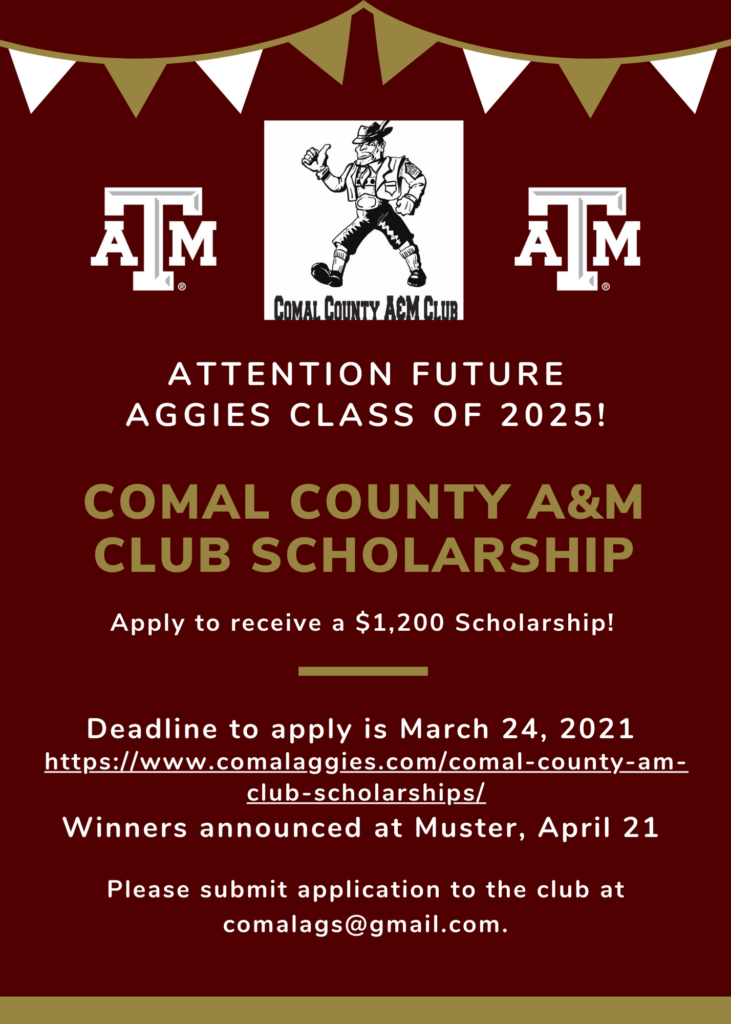 Our scholarships are available to incoming freshmen attending Texas A&M University in College Station or Texas A&M University at Galveston. Students that are currently seniors at high schools (or homeschools) within Comal County or residents of Comal County are eligible for the scholarship.
In 2021, we will be awarding 6 – $1,200 scholarships for the Class of 2025. 
Applications are currently OPEN for 2021!
Applications must be RECEIVED by March 24th.
Please fill out the application below, or use your high school general scholarship application. Along with your application, please include:
A personal statement expressing your desire to attend Texas A&M University and why you should be considered for this scholarship (maximum 1 page)

A copy of your high school transcript

Reference letters (3 maximum)
It is recommended that you download this form, type in your answers, print, and sign the completed application.
Scholarship recipients will be announced at Muster on April 21st. There will also be an announcement via social media after the event.
Submit your application via email or mail to the club at:
—
—
COMAL COUNTY A&M CLUB
P.O. BOX 310747
NEW BRAUNFELS, TEXAS 78131
In 2020, we awarded 6 – $1,500 scholarships for the Class of 2024.